Our Commitment to Fiduciary Duties and Sustainability
As a responsible asset management firm entrusted with the precious funds from our clients, Sumitomo Mitsui DS Asset Management has been making all efforts possible to ensure that we are fulfilling our fiduciary duties. Before the Financial Services Agency of Japan finalized the Principles for Customer-Oriented Business Conduct in 2017, we announced our "Our Commitment to Fiduciary Duties" in 2015, which was well in advance to the regulatory authority's announcement. The objective was to declare and demonstrate the required self-disciplines to fulfill our asset management responsibilities, and to ensure that we engage ourselves to a perpetual self-innovation process.
Since then, expectations have been constantly rising towards the social roles to be executed by asset management firms, where we are obliged to gratify the needs of the society. Therefore at this juncture, we decided to add sustainability elements and incorporate ESG factors to our previous commitment and to implement our upgraded set of "Principles of Fiduciary Duties and Sustainability".
At the time of merger between Sumitomo Mitsui Asset Management and Daiwa SB Investments in April last year, the corporate philosophy which we adopted as our missions and visions stated the following.
Towards the best asset management firm for your better quality of life.
We, as professionals, focus on:
- Delivering the best-in-class investment performance, while maintaining the highest standards of fiduciary responsibility to our clients,
- Contributing to a diversified and sustainable society through our investment activities.
To these ends, we commit ourselves to:
- Aiming for collective growth, based on a respectful understanding of all stakeholders,
- Creating a flexible working environment that allows all employees to reach their full potential.
This corporate philosophy acknowledges that there are responsibilities to be discharged not only as an asset management firm, but also as a corporate citizen. Additionally, this corporate philosophy clearly states that these responsibilities are not limited to clients, beneficiaries, and to the general public, but also to our employees. Our "Principles of Fiduciary Duties and Sustainability" are aligned with this corporate philosophy as a universal and fundamental policy to guide and drive our business operations.
Sumitomo Mitsui DS Asset Management shall naturally fulfill our investment responsibilities as an asset management firm which pledged and declared "Our Commitment to Fiduciary Duties", and also shall contribute to the society through capital markets as a firm serving in the investment chain. Once again, we are renewing our own resolution to execute these responsibilities now more than ever. Simultaneously, as a corporate citizen, we will strive to create an affluent society through CSR activities and measures to promote diversity while we work to preserve the global environment through environmentally friendly business operations and contribute to the realization of a sustainable society into the future.
August 2020
Takashi Saruta
Representative Director,
President and CEO
Principles of Fiduciary Duties and Sustainability
To materialize our vision of becoming "the best asset management firm for your better Quality of Life (QOLs)", we, Sumitomo Mitsui DS Asset Management, are committed to fulfilling our fiduciary duties. As a responsible institutional investor, we are also committed to fulfil management responsibilities based upon high ethical standard and professionalism. We acknowledge that our current investment activities lead to the future development of a sustainable society. Therefore, we will not only fulfill our fiduciary duties but also engage in stewardship activities and ESG investment. Simultaneously, as a corporate citizen, the way we operate our business will be environmentally and diversity conscious. In addition to this and in order to contribute to the realization of a sustainable society, we will take an active role for the sound development of local communities. Through these initiatives, we wish to grow with our clients and society in the medium to long term.
Principle 1. We will fulfill our management responsibilities as a responsible institutional investor.
We will exert ourselves to cultivate investment professionals who will play a central role in asset management business, and work to enhance capabilities of investment management, trading operation and risk management through utilizing state of the art IT technologies and domestic and overseas networks.
We will incorporate ESG factors into the investment process, and take a progressive approach to stewardship activities including engagement and exercising voting rights in order to encourage companies to enhance their sustainability and eventually contribute to augmentation of the company's enterprise value over the medium to long term.
We will develop and provide the most suitable products and services such as long-term investment products to accumulate assets by identifying the true needs of clients. We will also provide timely information on the investment products using IT technology.
We will not only establish a rigid corporate governance structure that ensures the appropriate management of conflicts of interest and independence of management, but also endeavor to disclose risks and commissions with a high level of transparency.
We will strive to maintain our soundness as a company and reinforce our crisis management system to be prepared for various contingencies.
Principle 2. We will strive to materialize a sustainable society through our asset management business.
We recognize the significance and essentials of asset accumulation for individual investors in an aging society with fewer children. Therefore, we will engage in investor education for a wide range of generations to raise the awareness for related issues and to improve financial literacy.
We will work to resolve environmental issues, such as climate change, and social issues, such as human rights through our original stewardship activities and by participating in initiatives in Japan and overseas.
We will strengthen our efforts to develop and provide products that focus on the sustainability of society.
Principle 3. We, as a corporate citizen, will engage in activities to pass on an affluent society and the global environment to the next generation.
We will participate in CSR activities such as revitalizing communities and providing social welfare support.
We will carry out environmentally conscious business management, such as reducing greenhouse gas emissions and plastic waste.
Principle 4. We will train and educate human resources to contribute to the QOL of our clients, the society and our employees.
We will put in place an environment where employees with variety of values can fully demonstrate their abilities and promote diversity, including the active participation of women.
We will provide a variety of career support programs so that all employees regardless of ages or assignments can take pride in their work and obtain professional expertise and insight required.
As an asset management company with its competitive edge in active investments, we naturally and not only conduct thorough research and analyze the material idiosyncratic aspects of each company for investments, but also we encourage these companies to make concrete efforts related to the following three essential and globally generic ESG themes.
Environmental Issues: Safety of Lives
Social Challenges: Improving the Quality of Life
Governance and Disclosure
Through these initiatives, we seek to deliver the "best in quality" performance to our clients while contributing to the sound development of capital markets, and on a further note to materialize a sustainable society with a better quality of lives through achieving the Sustainable Development Goals (SDGs).
1. Environmental Issues: Safety of Life
Environmental problems, such as frequent flooding and droughts, air, water and soil pollution, and biodiversity crises associated with development, are "clear and Present Crisis" that threaten the safety of human life. In order to overcome this crisis and pass on this planet to the next generation, it is essential to re-examine our lifestyles as individuals, and for companies to undertake technological innovations and reform business models to reduce the burden on the environment. We also recognize that while a firm's ability to respond to environmental issues shall provide growth opportunities, the inability shall also undermine the firm's sustainability and become a major risk factor for the company.
- Climate change
- Environmental conservation and circular economy
We will encourage companies to establish management goals, implement specific measures, and disclose information, in order to reduce emissions of greenhouse gases such as carbon dioxide to net zero or less by 2050 which correspond to the policies of various countries government. In order to realize a sustainable society, we will assess and incorporate the company's capabilities in responding to environmental issues into our evaluation process. The objective of this initiative is to provide "returns of good quality" to our customers and beneficiaries through our investment products that invest in companies that are engaged to the innovation of a wide range of fields, such as green technology and food technology.
2. Social Challenges: Improving Quality of Life
While poverty and access to medical care are important social issues in developing countries on a global basis, the rapidly aging society has become a particularly imminent issue to deal with in Japan. In order to overcome these challenges, to improve the quality of life of people, and to achieve sustainable growth for the society, it is extremely important for companies to diversify workers and work styles, and to create innovative products and services that lead to dramatic improvements in productivity. At the same time, we also recognize that depending on the companies' ability to respond to such challenges may offer opportunities for growth, but can also become a significant risk for businesses which may undermine or even impair the sustainability of a company.
- Aging society with declining birth rate
- Further utilization of human capital such as women's participation and advancement in the workplace
- Rising productivity through digital transformation
Through engagement, we encourage companies to harness the diversity of human resources to be exploited, including promoting women's participation and enhancing flexible work styles. In addition to incorporating capability of investee companies to respond to social issues into our evaluation process, we aim to deliver high-quality investment returns to our customers and beneficiaries with investment products that invest in companies that drive productivity improvements through digital transformation (DX) and automation/labor saving technologies.
3. Governance and Disclosure
We believe that a significant factor which would determine a company's sustainability is the management's ability in responding to "environmental issues" and "social challenges". Therefore, the management's ability to promptly respond to changes in the business environment would be a crucial element. In capital markets, in order to properly reflect non-financial information such as ESG policies and initiatives to stock prices, we believe it is inevitable to enhance disclosure further.
In order to have their enterprise value appropriately assessed by investors, we encourage companies to strengthen their corporate governance, develop policies and initiatives related to TCFD (Task Force on Climate-related Financial Disclosures) and other ESG issues, and to disclose these policies and initiatives in an easy-to-understand strategy. These encouragements shall be conducted through stewardship activities such as engagements and exercising our proxy voting rights. Especially for Japanese companies, we shall exercise proxy voting rights based on the stringent guidelines we internally established with a view not only to improve the value of individual companies but also to enhance the confidence of foreign investors towards the overall Japanese capital market.
We believe that ensuring independence as an asset management company and implementing effective corporate governance are essential to fulfilling our fiduciary duties and contributing to the realization of a sustainable society. For this purpose, we have four out of eight directors who are from other organization than shareholder companies. The Company invites three Outside Directors with abundant knowledge in domestic and overseas corporate management and financial and economic fields to supervise the status of management execution and conflicts of interest with shareholders from an independent standpoint and give advice to our management team based on their respective experience and expertise.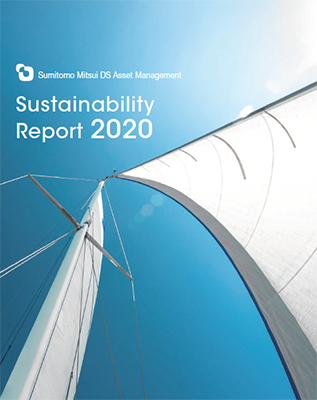 As an asset management company and corporate citizen, our company's sustainability activities and initiatives are summarized in the Sustainability Report.