Our Basic Policy and Initiatives for ESG Investment
Basic Policy on ESG Investment
In light of the changing global environment as well as societal demand evolving from Sustainable Development Goals (SDGs), Sumitomo Mitsui DS Asset Management (SMDAM) considers non-financial information including environmental, social, and governance (ESG) information to be as important as financial information to evaluate sustainability of issuers of stocks/bonds and investment corporations of REITs (hereinafter referred to as "investee companies"). We believe ESG analysis enables us to foresee the enhancing or damaging value of investee companies in the medium- to long-term. In this context we will proactively take the following measures.
Taking account of the investment philosophy and investment horizon of each investment product, SMDAM incorporates analysis and evaluation of ESG and other non-financial information into the investment process, and considers them in making investment decisions.
SMDAM aims to contribute to enhance the value of investee companies through engagement by communicating the investor's point of view, sharing ESG issues to be solved for the medium- to long-term value enhancement, and encouraging appropriate actions by investee companies.
SMDAM exercises its voting rights in consideration of ESG theme related engagement.
SMDAM strives to improve the overall effectiveness of ESG investments by signing or participating in ESG-related initiatives such as the PRI, and will work to collaborate with other institutional investors as necessary.
SMDAM collects information on ESG investments, including domestic/overseas laws/regulations, trends in ESG product needs of customers and beneficiaries, and the activities of other asset managers, in order to promote effective ESG integration. SMDAM also strives to disclose appropriate information to protect the rights of customers and beneficiaries.
In March 2010, we became a signatory of the PRI. As a responsible institutional investor, we will provide high quality investment returns to our clients and beneficiaries through the multifaceted utilization of ESG and other non-financial information. We will also contribute to the realization of a sustainable society by helping to solve environmental issues such as climate change and environmental conservation, social issues such as human rights and the aging of society, and governance issues that enable investee companies to appropriately incorporate these ESG issues into their management.
With our corporate philosophy "Towards The Best Asset Management Firm for Your Better Quality of Life.", we provide high-quality asset management services to our clients and as a responsible institutional investor that plays a role in the investment chain we are actively engaged in stewardship activities.
In order to accelerate such efforts and further contribute to the realization of a sustainable society, we have identified a set of materiality as key management issues fundamental to sustainability. Taking into account the characteristics of the asset management business, our materiality categories consist of "Materiality for Investment Management" and "Materiality for Business Operation". The material issues are identified across three areas: "Environment issues: Safety of Life", "Social issues: Improving Quality of Life" and "Governance."
Initiatives for ESG Investment
We initiated ESG evaluation in 2009. Since then, we have continuously enhanced our capabilities of ESG research by various means including set-up of dedicated section in 2016.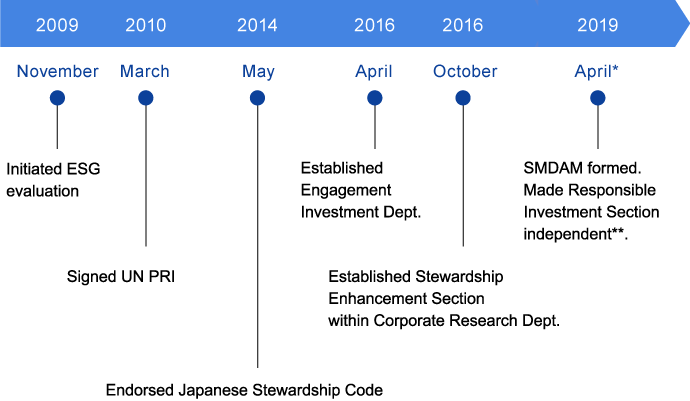 | | |
| --- | --- |
| * | Events prior to merger as of April 2009 were those of Sumitomo Mitsui Asset Management. |
| | |
| --- | --- |
| ** | Stewardship Enhancement Section was renamed to Responsible Investment Section upon being independent. |
Policy development and ongoing monitoring with regard to ESG investment activities are deliberated at ESG Meeting/Stewardship Meeting, Management Meeting as well as Board of Directors' Meeting and Responsible Investment Committee, internal body of the Board Meeting.
ESG Meeting/Stewardship Meeting are working-level talks and their role is to support investment teams engaging ESG activities based on a firm-wide policy as well as to monitor those activities for continuing reinforcement.
Management Meeting is attended by the CEO and executive officers and its role is to discuss the Company's basic policy on ESG investments taking into account outcomes of Sustainability Promotion subcommittee and take appropriate measures whenever their monitoring finds it necessary.
The Responsible Investment Committee is organized under the board of directors and it consists of independent directors. The role of the committee is to monitor fulfillment of fiduciary duties including responsible investments as well as controls over conflict of interest. The committee makes a proposal to the board whenever needed. The FD Sustainability Meeting is an advisory body to the CEO and it consists of external experts. The Meeting makes a recommendation to the CEO across company-wide activities relating to fiducial duties.
<Organization chart in charge of ESG investment>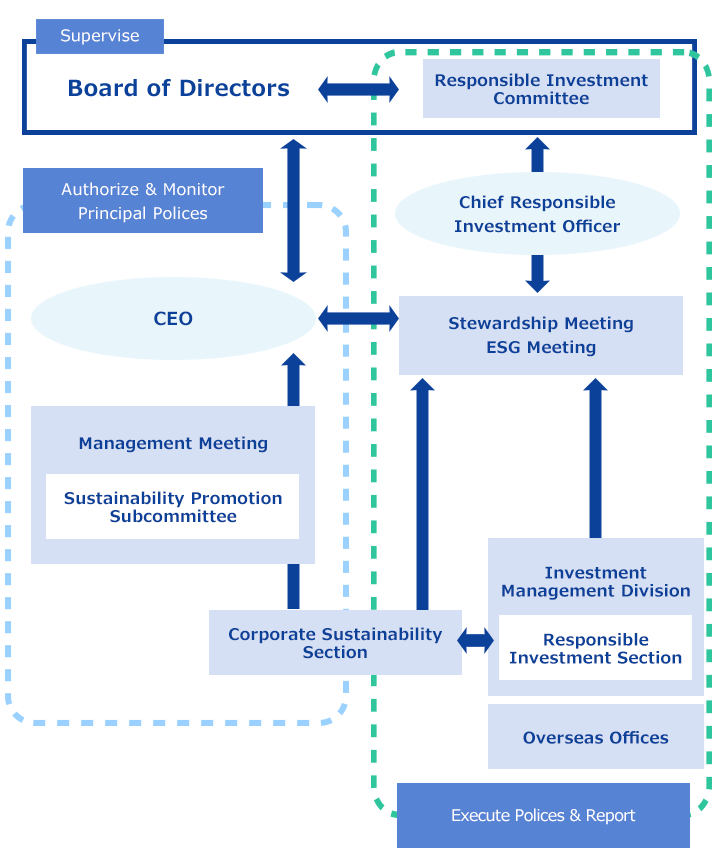 We have explicitly expressed our support or commitment to international frameworks for the global environment such as the Paris Agreement and the Convention on Biological Diversity, as well as global initiatives such as the PRI. In addition to our own efforts to identify and address material ESG issues, we anticipate global changes ahead of time through participating in domestic and international initiatives such as the "Asian Corporate Governance Association (ACGA)", "PRI", "Principles for Financial Action toward a Sustainable Society (Principles for Financial Action for the 21st Century) ", "30% Club Investor Group", "Task Force on Climate-related Financial Disclosures (TCFD) and the TCFD Consortium", and "Climate Action 100 +". Accordingly, not only do we actively utilize our ESG-related knowledge and insights which have been accumulated through the aforementioned activities into our investment activities. But also support the efforts of investee companies to realize a sustainable society.
In order to go above and beyond expectations, we signed or took part in various domestic and global initiatives such as Asian Corporate Governance Association (ACGA), United Nations Principles of Responsible Investment (UN PRI), 21th Century Financial Principles, 30% Club Investor Group, Task Force on Climate-related Financial Disclosures (TCFD) and TCFD Consortium, and Climate Action 100+. Being a part of these initiatives enables us to sense a change of global trend and gives us deeper insight regarding responsible investment.
United Nations Principles for Responsible Investment (UN PRI)
UN PRI were published in April 2006 by the then Secretary-General Kofi Annan with the aim of improving long-term investment results for customers and final beneficiaries, , the idea being that institutional investors should first establish a good understanding of ESG issues and then incorporate them into the investment process. We are awarded the highest rating A+ for Strategy & Governance in the annual PRI assessment.
Principles for Responsible Investment
We will incorporate ESG issues into investment analysis and decision-making processes.
We will be active owners and incorporate ESG issues into our ownership policies and practices.
We will seek appropriate disclosure on ESG issues by the entities in which we invest.
We will promote acceptance and implementation of the Principles within the investment industry.
We will work together to enhance our effectiveness in implementing the Principles.
We will each report on our activities and progress towards implementing the Principles.